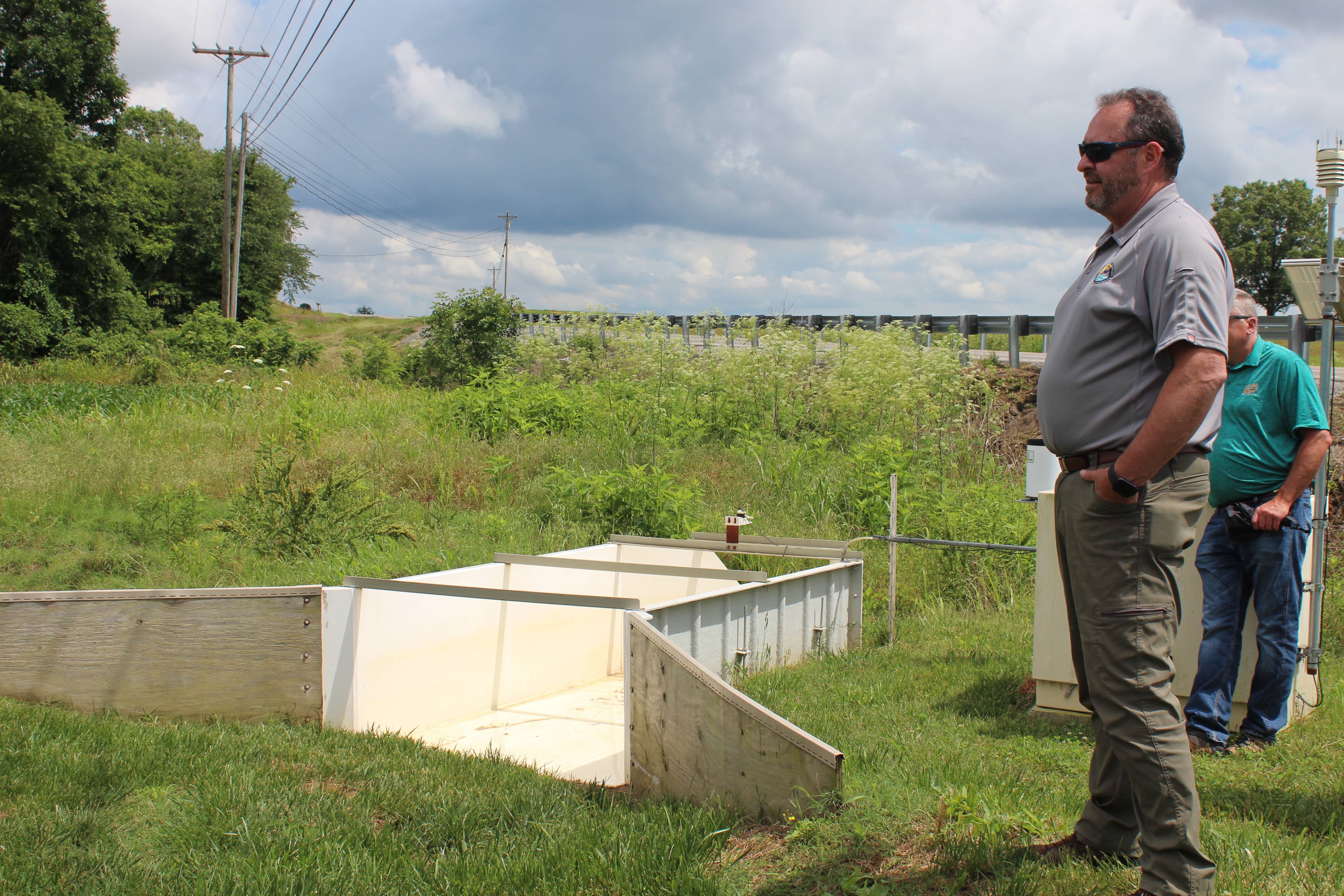 Farmers representing the Kentucky Soybean Board and Association, Kentucky Corn Growers, and the Kentucky Small Grain Growers Association hosted a two-day "show and tell" farm tour for guests from the Kentucky Cabinet for Energy and the Environment this week.
Cabinet Secretary Rebecca Goodman was accompanied by Deputy Secretary John Lyons, Energy Assurance and Efficiency Coordinator Amanda LeMaster, and Executive Advisor Anne Marie Franklin.
Tour stop hosts included Commonwealth Agri-Energy, which manufactures ethanol in Hopkinsville, Joseph Sisk of Sisk Farms in Hopkinsville, Barry Alexander of Cundiff Farms in Cadiz, Josh Lancaster of Hust Farms in Sebree, Ryan Bivens of Fresh Start Farms in Hodgenville, Caleb Ragland of Shady Rest Farms in Magnolia, and Richard Preston of Preston Farms in Glendale. Numerous other farmer-leaders joined the group at the various stops.
The Secretary and her traveling companions were impressed by the in-depth understanding and implementation of complex conservation best management practices (BMPs) utilized by the farmers. The advanced technology employed by farmers was also of great interest. While Secretary Goodman was raised on a small farm in Scott County, she said that she now realizes that her family farmed to feed the children, and "what I saw today was on a completely different scale, and it boggles the mind."
Secretary Goodman said that she heard a lot about water, runoff, water quality, and sustainability and that it was easy to see that the agriculture organizations work very well together.
Deputy Secretary Lyons was just as impressed with the farmers themselves as he was with the massive equipment and advanced precision ag technology. Lyons has been with the Cabinet for more than thirty years and said he didn't know if those terms were even being discussed at the farm level fifteen years ago.
From "show and tell" about water quality sampling projects to solar panels powering grain systems to nutrient management of manure from a large-scale commercial hog operation, the Secretary and her team were able to see for themselves not only the science but the personal stories behind these farming operations and their practices.
Secretary Goodman said that her takeaway from the tour was that "our goals are the same. We have learned so much, and we appreciate this behind-the-scenes look at what you do, and we know that what we do in Frankfort affects real people."
The host organizations were pleased with the tour results, especially with the established relationships. Relationships open doors to conversations, and having the Secretary of Energy and the Environment on these family farms, seeing the practices and technology that are being used to raise food, feed, and fuel in environmentally responsible ways, is one of the best conversations that could result from such an event.